After being up for nearly 24 hours we finally made it to Barcelona In one piece. Even our luggage arrived which is always a concern. The airport was a work of art in itself and could not wait to go exploring the city of Barcelona. The floors were made of shiny black marble it felt like you were walking on water. Very strange feeling. We stayed at The Barcelona Universal. After a good night rest we headed out by the underground Metro and our first stop was "La Sagrada Familia". It was amazing to see how many people that were waiting to visit the church. The line was wrapped around the block in the blistering sun but it was worth the wait. I can only say it brought tears to my eyes. It was magnificent! The ongoing architectural structure that has been going on since the 1900's is an absolute wonder. Every facet of the structure represented some part of nature in one way or the other. I could have stayed there all day and seen every corner of the cathedral.
Antonoio Gaudi designed the church 1883. Unfinished after a century, with massive spires lacks completed walls and a roof. To this day it continues to be worked on. It is a work of art. he truly was a visionary.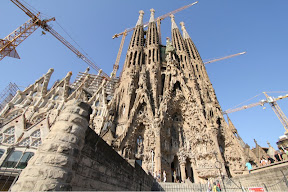 This is just a sample of pictures that we took.
We also went to the Park Guell.....Beautiful mosaic.....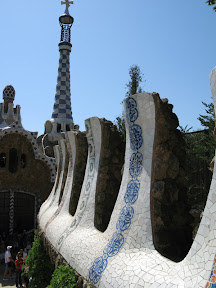 Pictures from other areas we visited in Barcelona. The buildings were all works of art. I would have loved another two days to see everything.
Beautiful Gothic buildings are throughout the city. The building above is called Casa Batallo
We took hundreds of pictures and it is just the first leg of our trip. We are now underway to Nice, France and yes more pictures. Keep checking back I will keep posting about our trip.
Oh yes, I am always looking for dolls.....
Ok, armed with camera and ready to go....
Location:Barcelona August 19, 2011